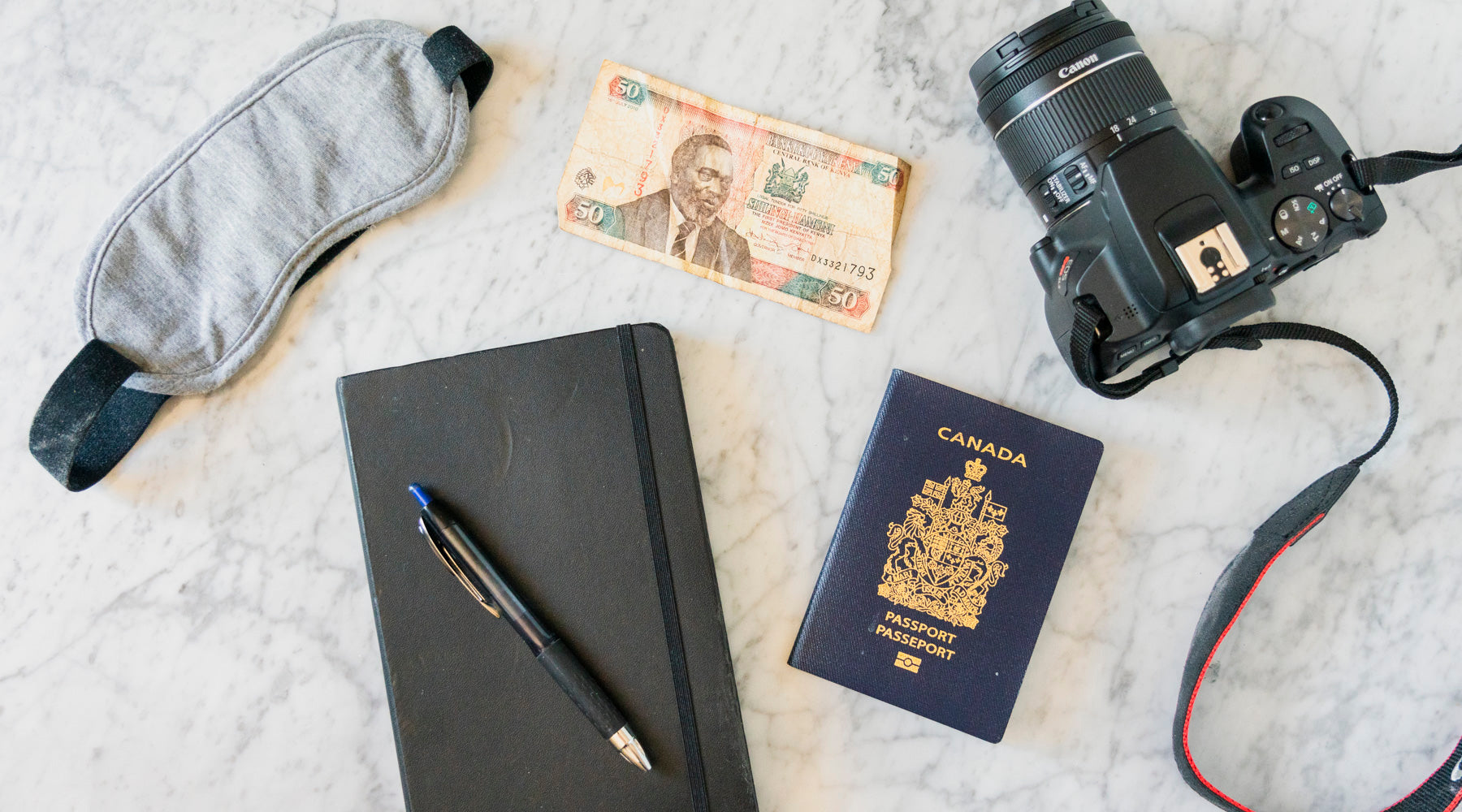 Kenya Trip June 2022
D

ate: June 26, 2022
Location: Nandi Hills
Kwa heri Kenya...
We travelled back to Nairobi last night and this morning we had a great meeting with one of the Women's Herbal Tea Co-op managers from Meru, Sally. We chatted with Sally about the potential for planting new organic herbs that we would love to buy from them like Peppermint and Spearmint (which do not commonly grow in Kenya but the seeds are available). We are excited about our growing impact our JusTea orders are having on the Women's Tea Co-op and the farmers in the Meru region (east of Mt. Kenya). Sally said our orders are supporting over 150 farming families! She said our consistent orders (especially through Covid) really helped farmers stay afloat. So asante sana (thank-you!) to all of you who are sipping JusTea in your cups...There is real impact happening in Kenya as a result!
We spent the rest of the day In Nairobi with Boaz and Jamila Katah, and their children Trevor and Tara. It was a nice finish to the trip catching up with our 2 key partners who we started this whole JusTea journey with together back in 2013. Boaz and Jamilla are so passionate and committed to making the best tea in all of Africa and creating sustainable employment in rural Kenya. This is the first farmer-direct tea from Kenya and we are so proud and grateful to have the Katah family as our close partners.
After a jam-packed airport in Nairobi (3 hour line-up), we finally made it on our delayed flight at 1 in the morning. We are sleepy but feeling fulfilled from a productive trip and reconnecting with so many good friends. Kwa heri Kenya until next year!
Date: June 26, 2022
Location: Nandi Hills
A fond farewell...
We had a couple hours off this morning so Russ and I played a 9-round of golf when the rain broke for an hour. We did this on our 2018 trip as well. Just like last time, there are no left-handed clubs to be found anywhere! So I had to play right-handed again :) After Russ and I had a great time chasing balls around the course, we headed back to the Tumoi tea gardens and factory to say goodbye to our friends. What a fantastic week Russ and I spent with the team here in Nandi Hills. Pending any new pandemics, we are looking forward to getting back to our schedule of returning to Kenya every year. 
Date: June 24, 2022
Location: Nandi Hills
Thriving...
Today we visited 2 of the Thrive Organic Life gardens that through your donations we are able to support. It was wonderful connecting with the small-scale tea farmers and tea pickers who are part of these community gardens growing organic crops to feed their families and medicinal herbs like artemisia. We heard some of the challenges that this year brought with lack of rain and some new farm tools they are needing. Stay tuned for some new Thrive fundraising campaigns we will be launching soon.
Date: June 23, 2022
Location: Nandi Hills
A day in the fields...
I woke up in the guest house and as I was walking to breakfast I saw a troop of vervet monkeys. I wanted to take a video for my daughter Cleo so I took out my phone and started recording. Everything was pretty chill with me and the monkeys and then the alpha came over… I have been around vervet monkeys quite a bit (this is my 9th trip to Kenya) so I didn't think much of it. I was filming and walking away but he kept chasing me and got close and aggressive. I sped up my backward walk and eventually he left me alone.
Fun fact about monkeys, they are one of the few animals who can see in colour! A quick google search told me that squirrels, insects, birds, and fish are the other ones. There's your fun fact for the day!
After the monkeying around, we had a really busy day at the tea gardens and factory. Russ and I hired a local photographer and drone videographer (Dennis and Ian) to help us capture a day in the life of a tea farmer, stages of tea processing, and the beauty of Kenya. I can't wait for you all to be transported to Kenya through this footage we will release once we return to Canada (we'll be back in only 4 days now, the trip flew by!). We laughed a lot as the drone flew up close to us and then far away, since most of the team (myself included) had never seen a drone action before! We drew quite a bit of attention from the tea farmers/pickers watoto (children) who were laughing and waving at the drone (one through a stick at it so the drone operator Ian shooed them away after that lol!). 
One of the new things I learned from chatting with the team today is that people must retire at the age of 60 in Kenya. Due to the lack of employment opportunities, it is a law that you must retire when you turn 60 to make room for the younger generation to have more job opportunities. It was sad to hear stories about how many people struggle to make ends meet when they are forced to retire without an income... and as medical needs arise, some can't pay the bills. We talked about some local programs that we can try to support which help people plan for retirement and make this transition smoothly. We will continue to listen and learn to see how JusTea might be able to help out in this regard. We will keep you posted as plans unfold.
- Paul
Date: June 22, 2022 (part II)
Location: Nandi Hills
Back where it all began...
Out of all the days on our trip, this is the one I circled on the calendar. Today we are back in Nandi Hills with our closest partners at the Tumoi Teas factory and tea gardens. This is the first farmer-direct cottage factory in Kenya which we helped start back in 2014. It has been a long journey for all of us and we are excited to be back to connect with all the wonderful factory team members and tea pickers/farmers. 
Wow, a lot has changed over the years! The factory has expanded with better quality machinery and lots of friendly new faces have joined the team. We spent the day catching up with our friends and sharing lots of stories together. One of the things I like to do while here is spend 30 mins to 1 hour with each team member on the ground here, asking questions about what has changed in their lives, what is going well and what are some new struggles they face. I take lots of notes and we talk about what they are comfortable with sharing on our website, social media, and printing. We want to respect our partners here so for all the photos and stories we share, we ensure we get consent before we post it for the world to see. Some people are a bit more shy but most people tell us 'Karibu' you are 'welcome' to share and they love how tea drinkers around the world can know who made their cup of tea possible. Seeing their pictures on the tin is especially a proud moment for them!
- Paul
Date: June 22, 2022
Location: Kericho, travelling west
Westward bound...
We had a great sleep in a colourful Narok hotel and then prepared to travel west to the tea gardens! We piled into a Mutatu (small public transport van) and were on our way. We continued to stop along the way, stuffing more people into the van. In total, we managed to squeeze 16 adults and 2 watoto (kids) into the 12 seater. 
After a few hours we arrived at our destination in Kericho, the Tea Research Institute. We met with the researchers and directors and discussed topics such as: new Purple Tea cultivars (more vibrant purple leaves and antioxidant content!), climate change impacts on tea farmers/gardens, and partnering together to grow more demand and market awareness for the delicious taste and health benefits of Kenyan tea!
Now we are back in the car and off to Nandi Hills (2 hours away) where our key partners 'Tumoi Teas' are located. It was wonderful driving down the bumpy dusty roads with tea gardens on either side of the car. With the windows down, you can smell the fresh tea leaves, similar to a fresh smelling Spring day with more of a sweet leaf aroma. 
We arrived in Nandi Hills around 6pm where we went to the local bakery owned by members of the Katah family to get a 'warm welcome': hot bread fresh from the oven! It is so nice seeing so many familiar faces after not being able to travel to Kenya the past 2.5 years due to Covid. Lots of smiles, hugs, and conversations about how our families are doing and how people are enjoying Kenyan tea!
- Paul
Date: June 21, 2022
Location: Masai Mara
Safari Day 2...
6am breakfast then off for a game drive. Apparently we just missed seeing the cheetah (too fast for us)! Saw a couple hyenas looking for some cheetah kill scraps. Saw a couple more lions, lots of elephants, gazelle, impala, hippos, crocodiles. Picnic lunch in the park and left around 3pm. Walked around Narok town and got some groceries for dinner. Relaxing evening and the best sleep I've had in Kenya thus far! Heading to Kericho tomorrow to meet with The Tea Research Foundation of Kenya to hear if there are any new tea cultivars they are working on or new research studies on Purple Tea. Then off to Nandi Hills to visit Tumoi and Thrive Life Gardens for the remainder of the week.
Kenya election is in August so there are huge billboards all over Nairobi, highways, and the rural towns. A president is elected every 5 years. Lots of discussion around politics these days.
Date: June 20, 2022
Location: Masai Mara
Our first ever safari...
This is our first ever safari in the famous Masai Mara! We never seemed to have enough time on previous trips!
Early morning drive from Nairobi to the Safari camp near Narok. Game drive in the afternoon from 3-7pm. Saw a bunch of animals (one sleepy lion! My faves were the giraffes and elephants), and what a beautiful landscape! So vast and so many animals! Had some rain in the evening so headed back to camp. Nice dinner with Russ and of course chess! We have played 20 games on the trip thus far and are tied 10-10. Bed early for 5.30am wake up. We both had a terrible sleep in the safari 'tent'. Strange sounds woke us up all night, not even animal sounds (although there were some), some sort of dishwasher machine seemed to be turning on and off at infrequent times all night. Plus, it didn't help that I watched Jurassic park before going to bed so I had weird dream about dinosaurs coming into our tent. Thankfully, that was just a dream...
Date: June 19, 2022
Location: Around Nairobi
A visit to the Katah family...
Relaxing Saturday. Russ is already feeling much better. I did some work and ran a couple errands in town preparing for our safari. Russ and I have travelled to Kenya over 10 times combined, but have never done the famous Mara safari, so we are going to try it this trip on our way to Kericho and Nandi hills tea gardens. 
In the evening we went to Jamilla's house in Nairobi and visited her and her 2 children Tara and Trevor. The Katah family are our good friends and we started this tea partnership together with their family and community in Nandi hills. Jamilla cooked us a delicious meal of chapatis and stew. It was so good to catch up with her and her family. We talked about the Kenyan election coming up in August which we see a lot of billboard advertising for. As a young democracy, Kenyans are very passionate and involved in politics. 
We talked with Jamilla and she said there is a covid wave happening in Kenya at the moment but people are not getting severely sick so the government said no one is required to isolate or even get tested with symptoms. Very few people are wearing masks except in required places like hospitals. Seems like it is a very similar situation as Vancouver right now. We even heard that when covid first hit the same items sold out here in Kenya: boardgames and bicycles!
We gave Jamilla her Purple Chocolate tea tin which she was excited to receive. We also introduced her to Wordle :)
Date: June 18, 2022
Location: Kiambu, 1 hour north of Nairobi
Back in action...
While Russ recovers from Covid, I set off to a place called Kiambu about an hour north of Nairobi. There is a reforestation group there called Trees for the Future I wanted to meet. I spent the day with the director Stephen and tree garden manager  Mary Ann. I toured Mary Ann's demo tree garden that they use to show farmers in the area what is possible on their small 1/2 acre to 1 acre Shambas. 
Essentially the idea is to diversify the shambas (farms) instead of just mono-cropping, which is typically what farmers do. In this area, most farmers just plant maize, coffee, Napier grass, avocado. Trees for the Future trains over 2500 farmers in the area on the importance of diversification and planting trees in their gardens. 
A tree garden has 3 key "R"s. Reduce hunger through planting crops and fruit trees, Reduce poverty through selling garden surplus after feeding family, Reforest Kenya through planting indigenous and introduced trees.  Each farmer is given about 4500 tree seeds from the organization to plant for fodder (animals feed on the leaves), cutting the branches for fire wood, and just regular fruit trees. Each farmer is trained in organic growing practices and soil regeneration through composting techniques instead of using chemical fertilizers. 
It was great to tour the gardens and meet one of the farmers who was a member. Due to the fact that Kenya is located right on the equator with volcanic ash soil and the perfect amount of sun and rain, everything grows way faster here than in Canada. A typical pine tree here reaches maturity in about 30 years where in Canada it would take 75 years! Some of the tree seedlings I saw were planted just 8 months prior and they were already 10 feet tall! It was cool to see some of the same fruits, herbs and berries that we grow too, like raspberry, tomato, kale, potatoes, peas, beans, mint, rosemary, etc. No blackberries or apples though, and strawberries are quite rare. Instead they make up for it with delicious goose berries, mango, passion fruit, dragon fruit and tree tomatoes.
Date: June 17, 2022
Location: Back in Nairobi
A change of plans...
Sadly we have had to cancel our trip to Meru. We were supposed to leave this morning but Russ tested positive for Covid this morning. The Women's Coop hasn't had any cases of Covid in their camp so they requested that we both don't travel for the visit. We were really looking forward to reconnecting with the Women's Coop but it will have to happen on the next trip. Instead of heading to Meru, we will be staying around Nairobi and I will be doing some day trips from here while Russ recovers in the hotel room (mostly cold symptoms, nothing major which is good).
We plan to meet the Women's Coop director (Sally) on our last day in Kenya here in Nairobi. We will be able to give her the herbal tea tins that feature members of the Women's Co-op on them so she can bring them to the members in Meru. I'm sad we won't be able to see everyone in Meru, but I'm glad we can at least connect with Sally before coming back to Canada.
-Paul
Date: June 16, 2022
Location: A few hours outside of Nairobi
A day with the carvers...
We had the opportunity to visit both carving groups we partner with today and yesterday. With our growing orders over the years, it was great to see how the groups have been able to expand their workshops and hire new carvers for the team. We talked about how our consistent monthly spoon orders help them keep workers employed full time, instead of the seasonal work they are often faced with, to supply irregular orders (especially during the tourist season). Throughout Covid we were able to keep our orders consistent which was really important since there were no tourists here and no demand for the tourist carvings (animals, bowls, trinkets, etc).
The carvers are interested in creating other crafts for us so we are bringing home some samples to review how we can expand their carving offering. Are there any carved items you would be interested in ordering from JusTea? They can carve pretty much anything but specialize in bowls, cutlery, serving spoons, and figurines. Leave a comment below and we'll do our best to make it happen!
-Paul
Date: June 14, 2022
Location: Nairobi, Kenya
By the time we filled in the missing luggage reports and cleared customs last night, we got to the hotel at 2 in the morning local time. We both crashed and woke up to have our 1st cup of milky Chai tea Kenya style. Today we are running errands in Nairobi (setting up cell phones, getting shillings, picking up malaria tablets). It's a nice sunny day in the mid 20s.
Forgot how busy Nairobi is! I read online that it has the 9th worst city traffic in the world. With our Nairobi meetings/errands, we always try to walk to avoid the traffic or travel by car mid-day. Travelling in rush hour means you can be at a standstill in traffic for 3+ hours!
From walking down the main streets of NBO today, it seems not much has changed. Lots of loud music coming from street vendors and yelling from mutatu drivers trying to get you to hop on their bus. Shop vendors try to get us to look in their shops by saying something like "Hey Mzungu!" or "Hey Francis" or "Hey James" (both I was called today) or any other mzungu sounding name they can think of :)

I also forgot to look to my right when crossing the street. Zoom, a boda boda driver whizzed past me with a beep. Canadian habits have me looking left, but that won't work here since they drive on the right hand side.

Early morning start tomorrow to visit some of the spoon carvers, about an hour outside of Nairobi.
PS: Russ' bags still haven't arrived. 
-Paul
Date: June 13, 2022
Location: Nairobi, Kenya
Karibu Kenya! We've safely landed in Kenya, it's currently 1am here (3 pm PST). I (Paul) have already managed to find my first tea garden of the trip. Russ on the other hand, still hasn't found his bags. Looking forward to getting into Nairobi, and getting some rest after the flight. We'll be spending a few days in and around Nairobi before heading to the (actual) tea fields. If you have any questions or special requests, please leave a comment below and I'll do my best to answer!
-Paul and Russ (who is still looking for those bags...)
Date: June 12, 2022
Location: Vancouver, BC
Just about to board at YVR. Kenya here we come!
Date: June 7, 2022
Location: Vancouver, BC
It's now less than a week until we fly to Kenya. I'm going to use this blog to publish (almost) daily updates when I'm in Kenya. You'll see some on social media as well - but this is where I'll be posting more of what's going on, how things are going in the tea gardens, and more of a day-today account of the trip. I'm so excited to be going - I've missed the sights and sounds of Kenya, but most of all the people. I can't wait to be back with everyone there, sipping chai together and catching up on missed time. For now, there's work to be done (I suppose I should be packing my bags at some point?), but by this time next week, I'll be walking through the tea fields of western Kenya.
If you'd like to receive email updates from the trip, and access to exclusive content (photos and video that don't make it on here or on social media) signup below. I promise I won't bombard you with emails, but you'll get notified when I've posted updates here on the blog. And if you have any comments, or questions, or requests, please leave a comment below; I'll be reading your comments and doing my best to respond.
As always, asante (thank you). I'm looking forward to sharing this trip with you.
-Paul