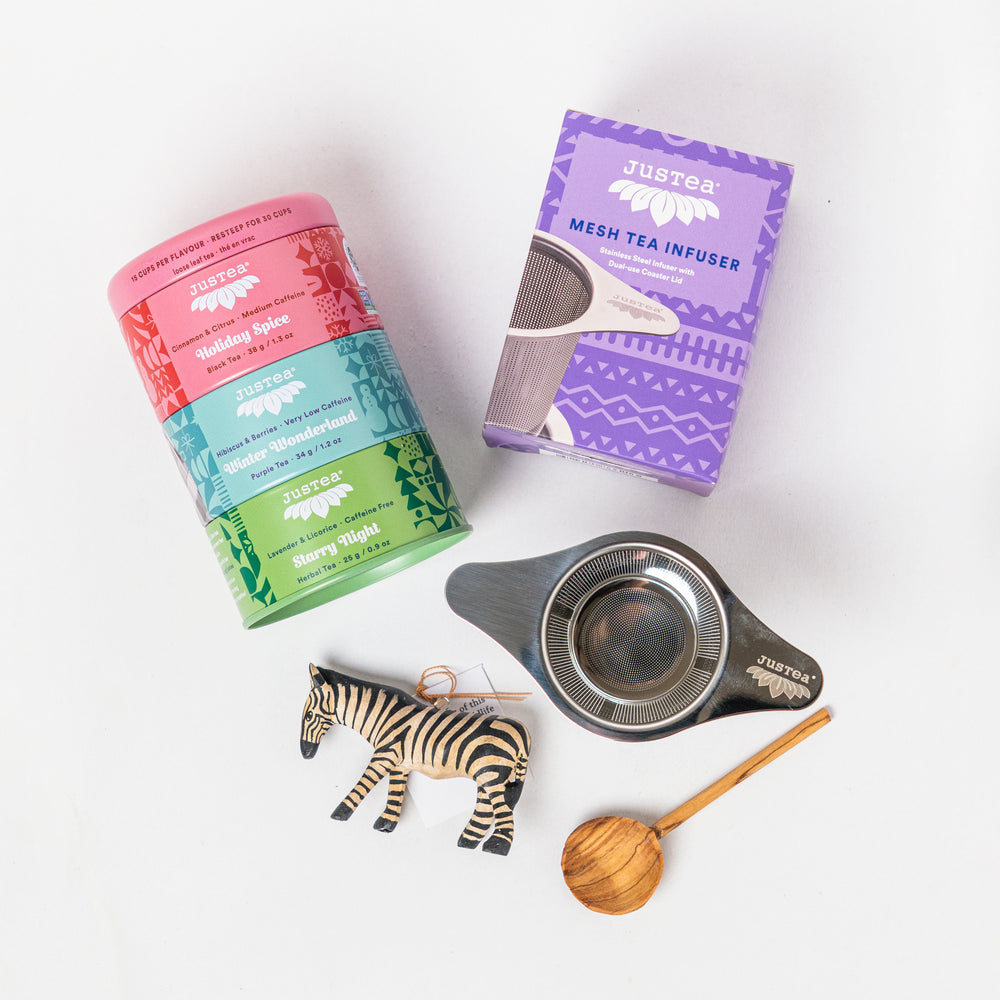 Hello!
JusTea offers the first and only farmer-direct tea from Kenya. If you like this blog post, check out the rest of our website.
Read our story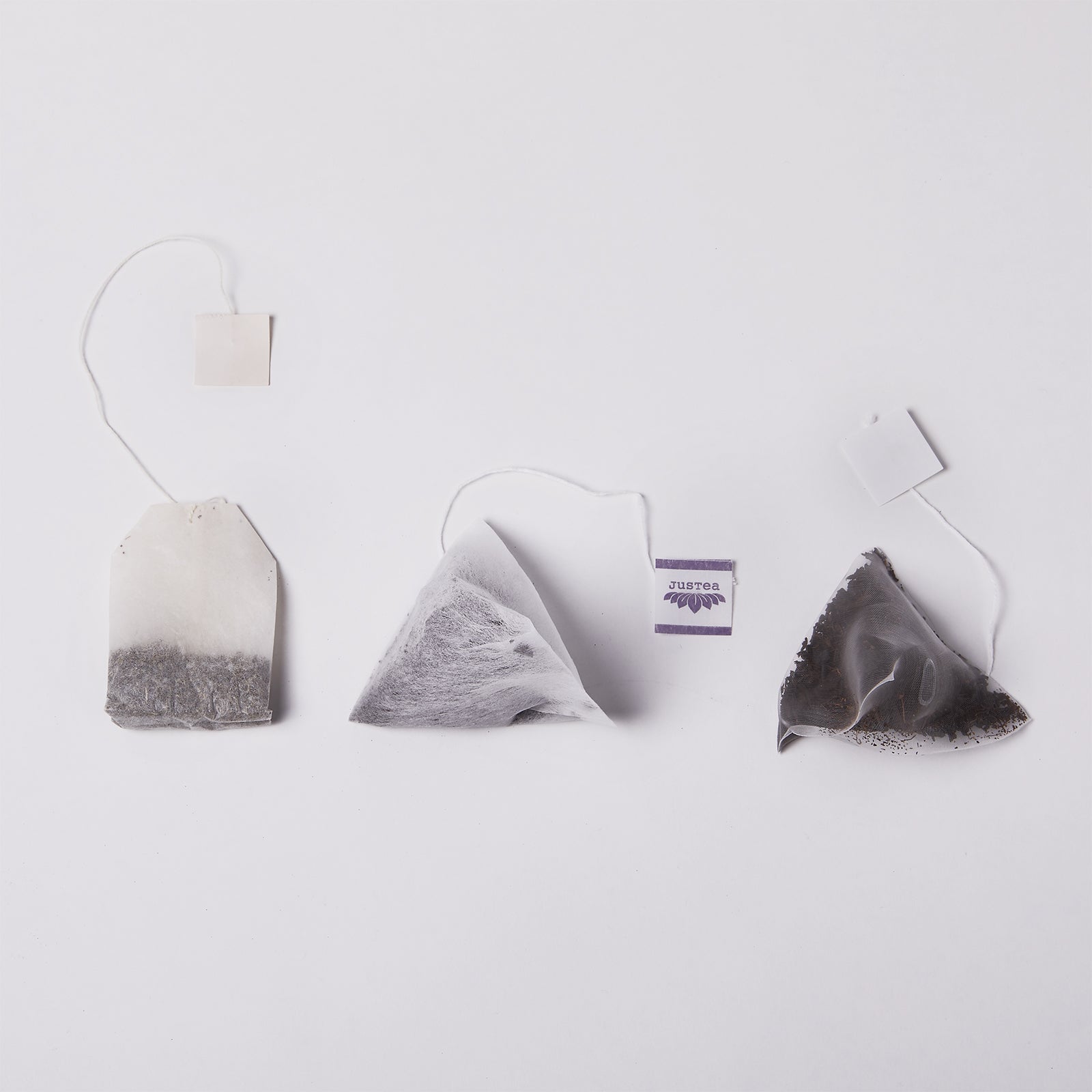 Introducing JusTea's New Compostable, Zero-Waste, Plastic-Free Tea Bags
O

ur Journey to Find a Sustainable Tea Bag

When we first started offering tea bags, we were disappointed with the lack of environmentally friendly tea bag material on the market. So after a couple years, we decided to discontinue all tea bags until we could find pyramid bags that were actually sustainable.

We are so excited that after years or research and running quality tests, we have sourced a new plant-based, compostable pyramid tea bag. These new bags are made from sugar cane, a 100% renewable raw material. We are so excited to be one of the first to offer these new zero-waste pyramid tea bags! 
How JusTea's new zero-waste tea bags compare to current tea bags available on the market?
JusTea's Zero-Waste Pyramid Tea Bags:
These are the most earth-friendly pyramid tea bags available, 100% plastic-free and compostable in just 3 weeks. Unlike any other tea bag on the market, JusTea's plant based bags are made only from the stalks of 100% renewable and non-gmo sugar cane (after the sugar has been extracted). We are up-cycling these stalks instead of people simply burning them which is typically what is done. ⁠These bags are certified USDA Biobased (100% from plants) and naturally white in color (we do not bleach the material). Our tea bag material is manufactured using a dry process, meaning no pollution, water waste, or chemicals are being used to manufacture the material and no harmful byproducts are going back into the environment. JusTea's innovative and sustainable tea bags can go in your backyard compost or city green bin. Shop here!
Basic Paper Tea Bags:
These tea bags are the most common tea bag found on the market. Unlike pyramid tea bags, these bags aren't spacious enough to hold whole leaf tea, so they can only be filled with lower quality ground up tea leaves or dust. The bags are made by cutting down trees to create the paper material. The manufacturing of these paper tea bags uses tons of water and this water can become contaminated during the process and end up back into our environment and water systems. Paper is also coated with dioxin, epichlorohydrin, 3-MCPD, and can be bleached in chlorine to make it white in colour. Epichlorohydrin is used in paper tea bags to help with wet strength. This product will leach when exposed to hot water, and is a potential carcinogen. Some paper tea bags also contain a plastic polymer called polypropylene to seal the bags that begins to degrade into micro-plastic when exposed to boiling water. Polypropylene in paper tea bags also means that they aren't fully compostable and bad for the environment. 
Nylon Pyramid Tea Bags:
These bags made from food grade plastic⁠ which 
studies
have shown can leak micro-plastics into your tea. These bags are made of plastic so they are not compostable or biodegradable⁠. They end up in the landfill and take decades to break down. They will never fully decompose, eventually they will turn into micro-plastics which are harmful to the environment.
Corn-based Pyramid Tea Bags: 
These bags are a better alternative to the nylon tea bags but are still not environmentally friendly. The bags are made from corn and depending on the provider, may not be non-gmo. We used to offer non-gmo corn based bags because it was the most environmentally option available at the time for our whole leaf teas. They are plastic free but these bags are not compostable. Compostable typically means the products has to break down in 2-6 weeks... these bags break down in about 10 years! These corn-based pyramid bags can't go in the compost, they go straight to the landfill.

While these are the tea bag options available on the market, we will always  recommend steeping loose leaf tea instead of tea bags. Loose leaf is the most earth-friendly way to enjoy tea since it doesn't have any extra packaging (all you need is a reusable infuser or tea pot!). Plus, you typically save money by purchasing loose leaf tea instead of tea bags!
Interesting in learning more about the best plastic-free tea bags? Read Yerba Mate Culture's blog post on safe, sustainable and compostable tea bags.